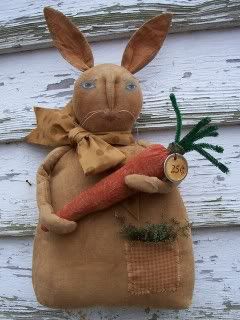 I haven't listed anything on Ebay for about a month, tonight I got this simple, primitive little Bunny Cupboard Doll listed.
It's really hard to know what to create and offer to people now, the economy is in such a turmoil and I know people have to really think before they spend. So I plan to offer pieces that are a bit simpler and less detailed therefore allowing me to keep my prices down a bit. They will still have plenty of hand-stitching and detail.
I hope you all had a wonderful first weekend of the New Year. Mine was pretty quiet, I mostly stayed home, sewed and made two stews yesterday. One beef and for a couple of my family members that are allergic to beef, venison stew. Hunting season ended here this past Saturday, deer season that is. A neighbor gave us some venison, I use it for stews and cook the tenderloin with onions and gravy. I can't eat it though, therefore the beef stew is for me!
The rest of this week I'll be working on something for the Simply Primitives update on January 15th, my deadline is the 10th, so I don't have much time left. I'll be sure and post a picture or two here when I finish.
Til then...take care. ~Diane