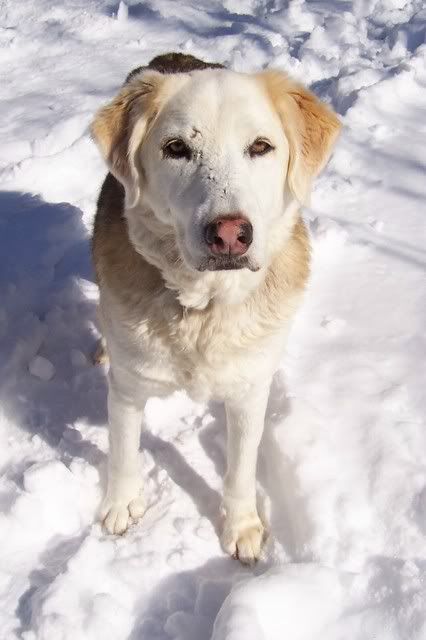 It started snowing Sunday afternoon here in Virginia and didn't quit until Monday morning. The most snow we've seen in a number of years, beautiful, but devastating also. We lost our electricity Sunday night around 8:00, it was off until the next morning around 11:30 then went off again around 2:30 that afternoon. Back on at 7:00 p.m. Monday night and, knock on wood, hopefully to stay. If I know anything at all, I know I would not have been a successful pioneer. I do miss electricty when I don't have it. We tend to take for granted all the things it does for us. I'm sorry so many people in our state are still without power.
Sadly, as beautiful as the snow was, it broke limbs from so many trees and shrubs. My gorgeous crepe myrtles, ornamental Plum tree and dogwoods have suffered considerable damage. I'm hoping some pruning will take care of most of them. It make take a couple of years for them to come back as bushy as they were, but I'm hopeful.
The pictures are of my 12 year old Gypsy. People ask me what breed she is and I don't have an answer. She was abandoned in our neighborhood 12 years ago this Spring, just a young puppy at the time, that's how I know she's 12. She had a horrible skin condition, was missing most of her hair and had raw places all over her body. She got like this because it was some time before she would let any of us pet her, much less catch her. I have no idea what her first several months of life were like, the only thing I'm sure of was that they weren't good. We took her to the vet as soon as we were able to catch her. She was spayed and her skin condition was diagnosed. The options were to treat her aggressively with medicated baths (at the Vet's), 30.00 a bath, or have her put to sleep. Putting her to sleep was NOT something I even considered, by then she was a member of our family. She was spayed first because the condition she had could be passed on to any puppies she had.
At first, she was bathed once a week for several months, then twice a month for several months and then once a month until the Vet thought the problem was cured. Thankfully she responded well to the treatments, her hair starting growing back in and she turned into the beauty I think she is today. It was an expensive, time-consuming commitment, but one I have never regreted. She has repaid us in so many ways, she has the sweetest most loyal dispostion. In all the trips to the Vet and all she has had to endure she has never growled or snapped at anyone. She is intelligent, loving, playful and much loved.
So, to me, what breed she is makes absolutely no difference. She's my Gypsy and that's all that counts with me.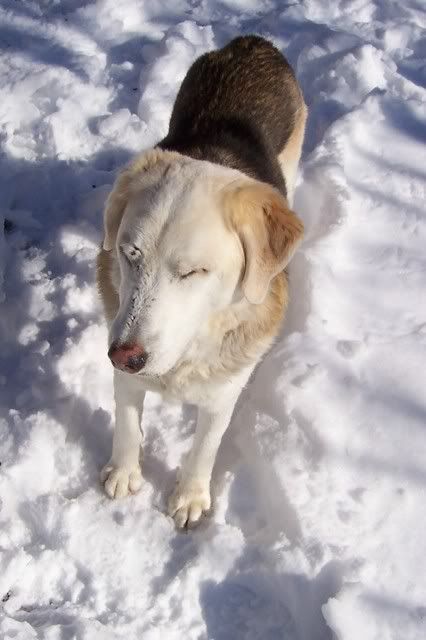 Miss Gypsy says she could use some sunglasses, the glare is hard on the eyes!
By the weekend the snow will probably be gone, we're in for a warming trend, I think Spring is on it's way...I'm ready for it.~Diane