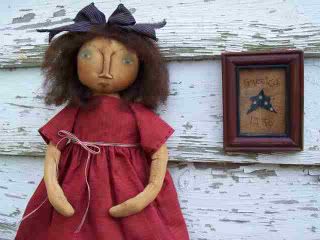 Last night I listed this Americana Doll~Betsy & her Sampler~ It's a 5-day listing and will end next Wed. night around 10:00 Eastern time. Click on my Ebay link and take a look at her.
I also wanted to share a really easy and very good plain loaf cake recipe I recently came across. With strawberry season quickly approaching I thought maybe you'd enjoy this. We love sweetened strawberries on plain cake, in fact I recently made one and served it with bought strawberries. It quickly disappeared!
SIMPLEST LOAF CAKE:
1&1/2 cups all-purpose flour
2 tsp. baking powder
1/4 tsp. salt
3 large eggs
1 cup sugar
1/2 cup sour cream
2 tsp. pure vanilla extract
1/2 cup flavorless oil, such as canola. (I use Crisco canola oil)
Preheat oven to 350 & generously butter a 8&1/2x4&1/2x2&1/2-inch loaf pan (6 cup capacity). I just spray my loaf pan with butter-flavored PAM and it works fine.
In a bowl, whisk together the flour, baking powder & salt.
In another bowl whisk the eggs,sugar, sour cream and vanilla until well-blended. Add the dry ingredients & stir until smooth. Finally pour in the oil & using the whisk gently, but thoroughly, fold it into the batter.
Put the batter in the loaf pan and bake 50 to 55 minutes, or until a toothpick inserted in the center of the cake comes out clean. Cool on a rack for 5 min. then take it out of the pan and cool to room temperature.
Serve plain, with ice cream and berries or berries and whipped cream. The recipe even says it's good toasted & spread with jam.
Hope you'll try this, it's so much tastier than store-bought.
I finished up and mailed an order this week that I'd had for sometime. I also managed to make some things for Southern Past-Times this week and am working on some dolls to mail to SPT this coming week. I also have the TDIPT Mercantile update coming up the night of April 30th....so it will be another busy week!
I'm hoping after this to take some time and get some much-needed spring cleaning done. I also need to get the porches cleaned off and pot some flowers. The porch floors are yellow with pollen.
So that's what I've been up to....till next time~Diane