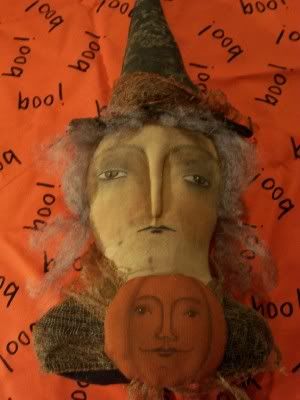 I've been working on some Americana and Fall/Halloween designs for a shop here in Virginia, the Witch Hanger pictured above is one of the pieces I finished this week. Fogive my picture quality, I had to take it inside because we have had very cloudy, rainy weather today. I'll be finishing up the sewing for Mary's shop this week and possibly I can get something finished for Ebay or my Etsy shop.
Simply Primitives updated this past week, I won't be listing on there again until probably September. We have a large garden and I'll be busy canning and freezing, so I just decided to take a few months off from one of my commitments.
As I said, it has poured rain here today at times, but my pink rose planted at my sundial was so pretty that I caught a break in the rain and got these pictures.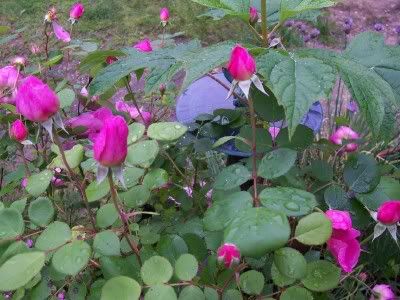 When I was coming back in I got this picture of Gypsy, she spent her Sunday sleeping on the porch,(between our walks). But she always looks to me for a little treat, you see I carry small treats for her in my pocket and when we're walking she stops several times to beg for a little something. I know I shouldn't but who can resist those eyes, I know I can't! At the age of 12, Gypsy is a perfect weight, so I feel okay giving her a few of these healthy little treats. When I came back on the porch from my picture taking she snapped to attention and got her reward!
Hopefully later in this upcoming week I'll be back to post a picture of something new. Til then enjoy your week~Diane