Well after much time and alot of work I've finished two pieces for the Simply Primitives update on Wednesday the 15th. Hope you enjoy this little peek. The Santa and Snowman Cupboard Dolls feature so much detail and hand-work. First my "Ho Ho Snowman".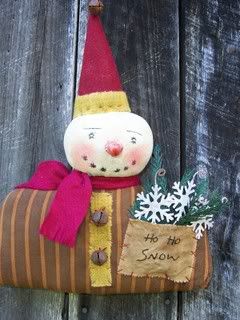 Second, "Jolly Olde St. Nick".
Don't forget The Primitive Gathering and Simply Primitives will both update the night of the 14th or on the 15th. I hope you can take a look at all the goodies listed on both sites, I'm sure you'll find a perfect accent for your Holiday decorating or a gift for a favorite friend. The links for both sites are to the right, just click on and it'll take you there.
My family had a great time yesterday at our reunion. There was alot of talking, laughing and eating and it was a perfect October day. We're already making plans to do it again next Fall. It was good to take the time and make the effort to get together, as one of my family said yesterday, "It looks like we only see each other at funerals and weddings and as we get older there are more funerals than weddings!"
So, we've decided to create a happy occasion to get together each year. It's fun to connect and catch up on each other's lives.
Well I need to get back to work, I have more deadlines to meet. Next time I post I'll give you an idea of what TDIPT Mercantile is planning for November. You're definitely going to want to check it out!
Talk to you later....~Diane~