I finished two pieces for my debut month on The Primitive Gathering site which updates the 15th. I've been working on somthing a bit different. I know so many of us are having to be more careful with our spending so I've been trying to come up with some designs that will not be so expensive but still have lots of charm and detail. I hope you enjoy them. The first is a very simple, serene Angel.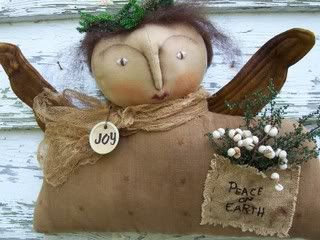 The second, a whimsical Snowman.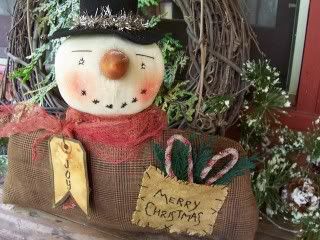 These two designs are cupboard dolls or shelf-sitters. I added lots of hand-stitching and details to them. The pockets feature hand-stitching, for the Angel "Peace on Earth" and for the Snowman "Merry Christmas".
I'm working on more of these for the Simply Primitives Update which is also the 15th of this month. I'll add pictures here when I get them finished.
Enjoy the beautiful Fall weather, our leaves are just starting to change here in Virginia, in a couple of weeks they will be glorious to see!
~Diane~