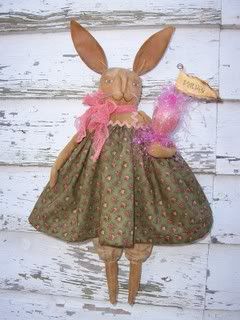 The Mercantile updates tonight and this little Chubby Bunny is what I'll have on there. The Mercantile will update between 9:00 and 10:00P.M. (eastern time).
Chubby Bunny is made to hang and is about 21" tall from her toes to the tips of her wired ears. She's dressed is sage green and shades of pink. She's holding a mache' egg that I painted pink and liberally sprinkled with mica flakes and glitter. I wired the egg and added a "Spring" tag and vintage pink Easter grass above and below the egg. Her arms are wired so I simply bended her hand to hold the wired egg.
Hope you enjoy her and all the other offerings from the 1st of the month TDIPTer's.
~Diane