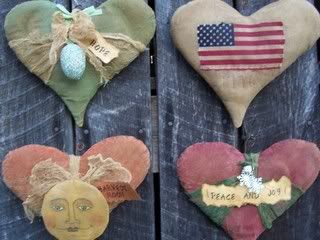 I listed this set of four Seasonal Hearts tonight on Ebay. The auction will end next Monday night at 10:00 P.M. Eastern time. Hope you get to take a look at them. I always enjoy making things as a set including each of the seasons, one purchase and you have something new for Spring, Summer, Fall and Winter.
I think these hearts would look great hanging from the center of a large grapevine wreath. Change the heart each season and add a complimentary ribbon tied into a bow.
My friend Donna is back from the Olde Homestead show. She and Don were sick the entire time but luckily the show went really well with lots of things selling for them. She said people were really buying, that's good to hear with the economy being in such a turmoil.
It's going to be a busy week, orders to finish, a doctor's appointment Thursday and finally Friday a treat I look forward to each year. It's the weekend of a big show and sale that a lady near us has each Spring and Fall at her house. A mixture of antiques and new seasonal items, it's always so much fun. My Aunt and I make a day of it, so I'm really looking forward to it.
Til next time~Diane