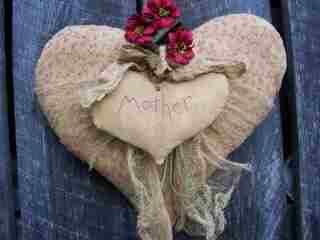 For the Simply Primitives update, on April 15th, I'll have three of these hearts offered, each slightly different in fabric and trims. They would be perfect for Mother's Day which will be here before you know it!
I'll also have a Patriotic Make-Do that features a flag and lots of little extras pinned to it. So be sure to check out Simply Primitives on Wed. April 15th, the link is to the right.
I'll be working on finishing up an order this week. I'm hoping to get something else on my Selling Blog soon, I'll let you know when I do.
I hope you had a wonderful Easter weekend. The day was gorgeous here, slightly cool but sunny. The Dogwoods and redbuds are blooming and they're so pretty this year.
I need to get to bed, so I can get to sewing tomorrow. I hope you all have a great day tomorrow...enjoy it!
~Diane