Tonight I listed this Jack-O-Lantern on Ebay, I love how he turned out. Hope you get a chance to click on my Ebay link and go take a look at him.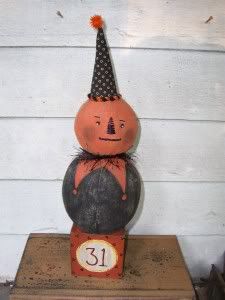 This will be another busy week. We're getting squash and cucumbers in ever-increasing numbers. Most likely I'll start freezing some squash and it won't be long before I'll have enough cukes to start a crock of pickles. I make 14-Day sweet pickles, I've tried other recipes but this one is a family favorite. Even though it involves 14 days, it's not too complicated. The squash I freeze are cooked, seasoned and ready to eat. I just cool them and put them in freezer containers. I also grate raw squash and spoon some into zip lock bags to use in soups, a good way to get some more vegetables into finicky eaters. After all the rain we've had I'll probably be inundated with squash. I may have to resort to finding unlocked cars and leaving unsuspecting strangers a bag of squash!
So far, we just have 1 or 2 tomatoes a day, the small kind that are so good for salads. I'm really looking forward to that first bacon and tomato sandwich, there's nothing better for dinner on a hot summer evening.
Enjoy the week and if you find a bag of squash in your car...don't blame me!
~Diane