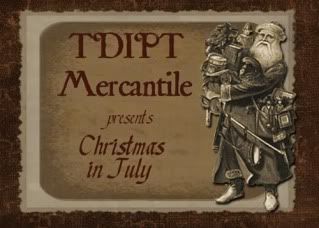 I hope you get a chance to visit TDIPT Mercantile and see the wonderful array of Christmas items being offered this month. The Mercantile was updated last night with the Artist's that update the first of the month and be sure to take another look the night of July 14th for the update of the "15th Artists". There are some great holiday pieces being offered.
I didn't get a piece made for the Mercantile this month but will return in August for the Halloween themed update.
I'm working on another pumpkin piece for Ebay, I'll let you know when I list it.
Enjoy the rest of the week...Happy Fourth of July to each of you!
~Diane