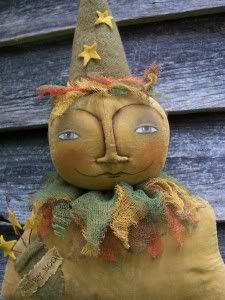 Tonight I listed this Harvest Moon Cupboard Doll. I hope you'll take a minute to click on my Ebay lick and take a look at him.
Also I'm the featured Artist on the TDIPT blog this month. If you want to get to know a bit more about me go check out the Group's blog. Simply click on TDIPT Blog in the Friends to visit column.
I'm still working on vegetables, one day tomatoes the next stringbeans. I don't know how much longer the garden will hold out, the rains have slowed and the heat has been pretty intense the last week. So, I'm happy to have the veggies to can, they'll be so good this winter.
I hope to share some pictures of our first pumpkins soon, it's been a good year for them also.
Til next time~Diane