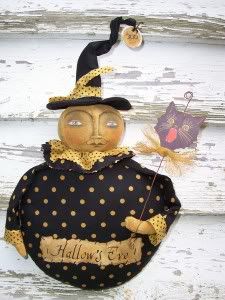 I listed this whimsical little Harvest Moon Hanger tonight on Ebay, the auction will end Thursday Sept. 17th. Hope you can take a look at her. My Ebay link is to the right.
I also wanted to let you know the
TDIPT Blog
is having a Funniest Pet Contest. Some of the TDIPT members have pictures of their pets posted on there, so be sure to stop by and vote. There are plenty of funny dogs, kitties and even a dancing goat wearing a tutu!
I'm working on something for the
Simply Primitives
update on the 15th. There'll be one thing definitely and, I hope, a second piece. We'll see how my time goes this weekend.
Hope you all are enjoying the cooler late Summer weather. I can see things are slowly changing, bits of red and yellow are showing in the leaves, the crab apple trees are hanging with tiny fruit and the garden, though still producing a few tomatoes, has that tired, spent look of late Summer. Everything is getting ready for a long rest, and in the case of our garden this year, a well-deserved rest. So enjoy these last few weeks of pleasant temperatures, winter is closing in on us.
~Diane