On Nov. 1st TDIPT Mercantile will open the doors on our annual Christmas Open House. Look for lots of new and exciting Holiday designs on the
Mercantile
and a Christmas Open House Give-Away on our
TDIPT Blog
.
Plus, we will be offering ~Fall Into Christmas~Recipes, Tips & Patterns to Celebrate Harvest, Halloween and Christmas. This is a TDIPT Group project we've been working on most of the year to sell and donate all of our proceeds to Charity. In fact we'll be donating to two charities, The Make A Wish Foundation for children and the ASPCA for our animal friends.
So I hope you'll check out the Mercantile or the Blog on Nov. 1st for details on ordering your copy and possibly a copy for a primitive-loving friend.
I also wanted to let you know I have my first Santa of the year currently on Ebay.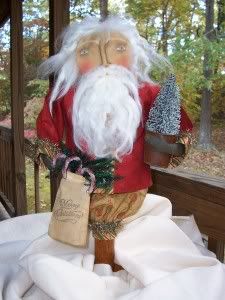 The auction will end Thurs. night Oct. 29th around 9:30 p.m. eastern time. I'm now working on a Snowgirl Make-Do that I hope to list either Mon. or Tues. night.
I hope you get to check out some of our upcoming events and possibly find something you want or a gift for a friend.
Thanks for stopping by and I hope you all have a great week.
~Diane