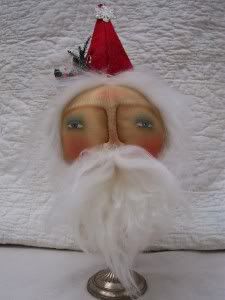 Tonight I listed this Santa Make-Do on Ebay. I recently found some interesting candlesticks at a couple of local thrift stores. The one I used for this Santa is, most likely, brass but is covered with a silvery finish. It's very heavy. I love the way it turned out with this Santa.
I hope to possibly use another of the candlesticks for something I want to make for the Simply Primitives update coming on November 15th. More to come about that later.
The weather has been good for staying in and sewing, it's turned quite a bit colder here in recent days. The other day I made a big pot of chicken vegetable soup using some of my frozen and canned vegetables from the garden. It was perfect for this colder weather!
So I'll be here, busy sewing. Check back soon to see what I've been working on.
~Diane